National Sports Tribunal deputy sanctioned for false statement
The rhythmic gymnast who missed out on the Tokyo Games as a consequence of the judging fiasco, Alexandra Kiroi-Bogatyreva, won a gold and silver medal at last year's Commonwealth Games in Birmingham.
She is currently living and training in Azerbaijan in preparation for next year's Olympics in Paris.
An AOC spokesman said the previous Olympic trials were a "difficult time" for all athletes trying to qualify for Tokyo and Chiller would continue to her role as a "highly valued member of the AOC executive."
The 2021 Oceana Continental Championships, which served as an Olympic qualifying event, were held on the Gold Coast at a time when Australia's closed international borders and interstate travel restrictions made it difficult for find international-standard gymnastics judges.
The dispute centred on the qualification of two Australian judges who officiated at Carrara and their decision to re-score a routine which relegated Kiroi-Bogatyreva to second place in the final standings and out of the Tokyo team.
When Kiroi-Bogatyreva protested the result, the routines were rejudged on the basis of video footage recorded on an iPad. The final standings were confirmed by the review.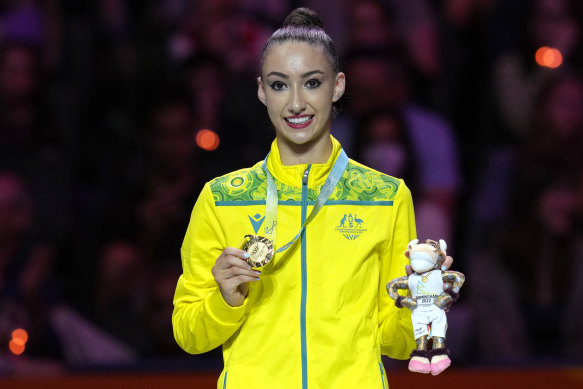 The GEF panel's published reasons examine multiple breaches of International Gymnastics Federation rules, the failure of event organisers to consult with the FIG and a misleading statement which Chiller provided to an earlier CAS hearing about her attempts to secure a more qualified judge.
The panel accepted Chiller's evidence that she did not knowingly or intentionally provide a false statement. It found that her mistake was to accept at face value what another official told her, "in violation of the diligence and care" required when providing sworn evidence.
The panel rejected a claim of deliberate sabotage against Kiroi-Bogatyreva but found that the departure from international judging norms at such a consequential event had the potential to damage the sport.
"It is of utmost importance that the gymnasts and public can trust that a competition that decides on an Olympic qualification is in line with important FIG rules on how to judge such a competition," it concluded.
"Losing qualification due to these circumstances can also be traumatic for the gymnast concerned. The seriousness of the situation goes far beyond a mere technical violation."
Subscribe on YouTube