'You just don't know': Jones' return leaves Wallabies stars in dark about World Cup spots
That will still happen, of course, but the 65-cap Wallabies vice-captain said the lift in Australian teams in Super Rugby will now be boosted further by a new motivating factor: Jones.
Given the only active Australian player who has been coached by Jones is Quade Cooper, at the Reds in 2007, the vast majority of Wallabies players are back at square one, without a firm understanding where they stand as far as selection for the Rugby World Cup in September.
"That's the vibe you get straight away, you just don't know now, especially with a lot of the boys here now, who haven't been coached by him before," Alaalatoa said.
"But what we have spoken about already is we can only control what we can control. If you want to be part of those discussions with Eddie you have to train well and perform well in your state union. So again, you will see a lift in the Super Rugby competition, and that's awesome. That's what you want."
Alaalatoa said the emotional flipside to Rennie's exit was excitement about Jones' entry, particulary given his reputation as a World Cup guru. Jones took Australia (2003) and England (2019) to World Cup finals, helped South Africa win in 2007 and masterminded Japan's win over the Boks in 2015.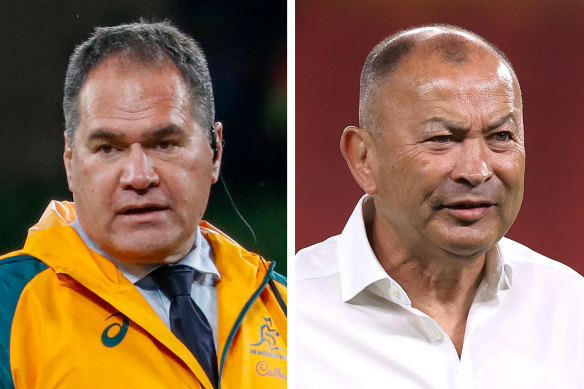 "The stats don't lie, he knows how to win and at the end of the day that's what we want to do as players, and as a country," Alaalatoa said.
"I haven't been coached by Eddie but from a few of the past players I have got the gist of the way he coaches, and from the vibe I am getting what you do know with Eddie is you are going to get better. As a player, if you don't want to get better, you're in the wrong job.
"And an Australian coming back to his home country, it'll be great for the game as well. There have been a lot of discussions around building the game up, from grassroots into Super Rugby and getting that positive vibe again about rugby. And that comes from winning. What we do know is that Eddie knows how to win."
Loading
Alaalatoa is the first Australian player to sign through to the Rugby World Cup in 2027. He said the decision to accept an offer to stay in Canberra with his young family for four more years was a "no-brainer".
"I look at the Brums and the organisation there, its family. There is a real sense of belonging," he said."
"Looking ahead to the Lions series in 2025 and 2027 with the home World Cup, as a kid growing up in Australia, those are the events you want to be a part of. Hopefully I will get that opportunity. It's a bright future looking ahead."
Subscribe on YouTube