Exhausted Murray finally takes his leave, brave but far from bowed
It was no surprise Bautista Agut, who was Murray's rival when Australian Open officials prematurely retired the Scot to his bemusement in 2019, looked by far the fresher player.
But among the reasons Murray is a champion are his heart and also his court craft. Even with his movement compromised, the former world No.1 read the play like the maestro he is.
He anticipated the thrust and parry from the Spaniard and stayed in the contest. A quality match unfolded despite his aching body.
After waddling onto the court, Murray could scarcely reach down for his water bottle, let alone get his engine started. And in the infancy of the match, there was only one gear available. Slow.
He won just one point in the first three games and the opening set whistled by with Murray barely in motion.
His body squeaked, squealed and stalled but finally sparked into action midway through the second set.
The dual-Wimbledon champion retrieved a service break and then saved two set points to level the match in a thrilling tie-breaker. That earned him a standing ovation from the crowd.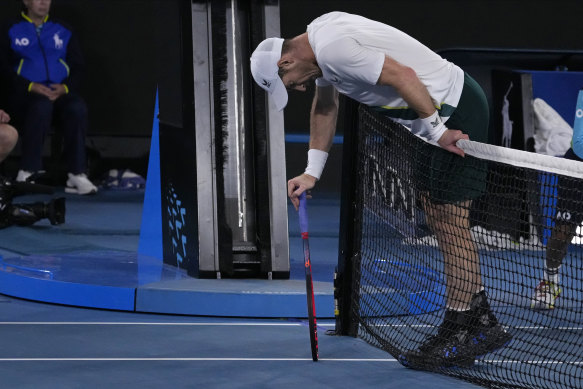 Midway through the third it was clear there would be no miracle, even if the fight had not left the old dog.
It seemed a rare moment between points when he was not bent awkwardly over his haunches, yet he still forced the world No.25 to work overtime to clinch the lead.
The fourth set was similarly tight. Murray broke early, surrendered it and then gave another break at 4-all, a game that went against the grain of the contest given how easily it was lost.
Loading
On securing victory, Bautista Agut bellowed "vamos" and pumped his fist in delight. It was a quality performance. He had seen off a proud champion who had the support of the crowd. He progressed to face Tommy Paul for a place in the quarter-finals.
"Today there was a lot of love for Andy, I think. Maybe next round there will be a little bit more for me," he said.
Murray, meanwhile, cleaned up around his chair, neatly packed his bags and hobbled back off the court again, but not before giving the crowd a prolonged wave farewell.
He has said repeatedly that he is determined to try to return to the top. His ball striking is as good as ever. The query is whether his body, aching and creaking as it is, will allow it.
Watch the Australian Open, live on Channel Nine, 9Gem and 9Now.
For daily updates of all the tennis action during the Australian Open, sign up for our Sport newsletter here.
Subscribe on YouTube