Fun and games as Djokovic and Kyrgios square up in exhibition match ahead of Australian Open
His manager Daniel Horsfall later quelled any doubts that Kyrgios would play in the Australian Open.
Among the crowd on Friday night was Melburnian Lisa Wells, who expected the players would appear to have fun during the practice match but be sending a message about their chances to win the tournament. "They'll both be very much wanting to win," she said.
Sergej Saric, from Melbourne and whose family is Serbian, said he wanted to see Djokovic take his 10th Australian Open grand slam title. "If he gets it, it'll be a remarkable moment – not just for him, but for all of us living here as Serbians," Saric said.
Fan Rod Thomas said he hoped to see Djokovic and Kyrgios clash again in the quarter-finals. "I think there's every likelihood they will meet again," he said.
Kyrgios, whose first on-court appearance at this year's Australian Open on Friday overlapped with the release of a behind-the-scenes look at his time at last year's tournament in a Netflix Break Point episode, is ranked No. 21 in the world.
The Australian is due to open his campaign against Russian world No.99 Roman Safiullin. In the second round, he faces either Richard Gasquet or Ugo Humbert.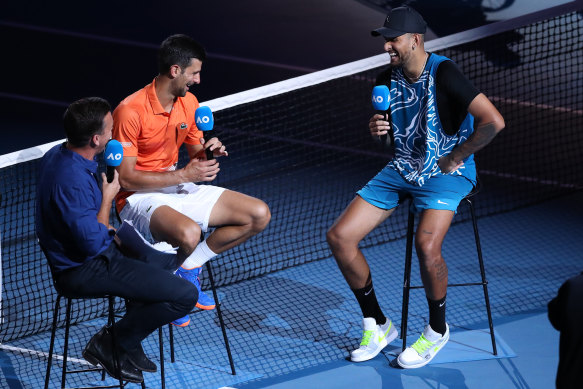 Meanwhile, Djokovic is due to play Spanish world No.75 Roberto Carballes Baena in the first round. Djokovic was denied the chance to play last year because of a vaccination saga.
After leaving the practice match following just one set on Wednesday, Djokovic said the pain in his hamstring was the same niggle that had affected him during the Adelaide International. He had called a medical time-out in the semi-final against Medvedev.
"I didn't want to risk anything worse. Played a set and apologised [to Daniil]," he said earlier this week. "I wanted to avoid any bigger scares before [the] Australian Open."
Watch the Australian Open live and free on the 9Network – Channel 9 and 9Gem.
News, results and expert analysis from the weekend of sport sent every Monday. Sign up for our Sport newsletter.
Subscribe on YouTube