baerbock: UN must ensure 'human rights' in Kashmir, says German foreign minister Annalena Baerbock in Islamabad | India News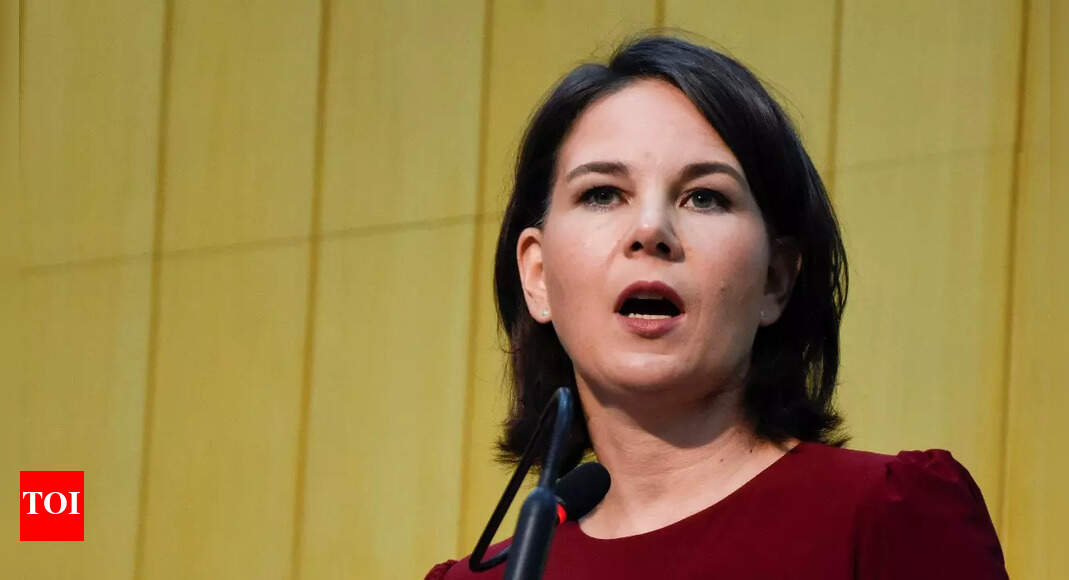 German foreign minister Annalena Baerbock has undertaken her first visit to South Asia by setting foot in Pakistan. And proverbially, she may have also put it in her mouth, as far as 'close strategic partner' India is concerned.
At a joint press conference with her Pakistani counterpart, Bilawal Bhutto, in Islamabad on Tuesday, Baerbock assured journalists that the UN has a role to play in ensuring 'human rights' in "Kashmir", and that a 'constructive approach from both sides' is the only way to improve relations between Pakistan and India.
"The foundation of the UN is that human rights are indivisible, and this counts for every region in the world. It also counts for Kashmir", Baerbock said. "And therefore we support the work of the United Nations also with the situation in Kashmir (sic), to ensure that all the human rights are being guaranteed"
Baerbock pointed out that while Germany was not part of the United Nations Security Council, (UNSC), it offered support (over Kashmir) within bodies such as the UNHRC, and others.
"We believe that a constructive approach from both sides and confidence-building measures are the only way forward, to improve the relationship between Pakistan and India. The bilateral agreement to implement the ceasefire along the Line of Control last year, was a positive step. More steps should follow this line. It is really a strength of different governments if there is a provocation, that one doesn't react, but stands to its own (sic), and to international principles," Germany's first woman foreign minister said.
Former Indian ambassador to Germany, Gurjit Singh, said that Ms Baerbock's comments seemed 'trite' and 'obviously unprepared', since the main thrust of her visit to Pakistan was to settle the fate of approx. 60000 Afghan refugees, about 18600 of whom, Germany has agreed to give refuge to, with Pakistan's logistical support.
From referring to Jammu & Kashmir as 'disputed territory'for decades, Germany has come a long way. In recent years, that earlier description of J&K was quietly altered to 'union territory' on the website of the German Ministry for Foreign Affairs.
Several years ago, a camera-friendly German ambassador to India, organized an open-air Beethoven concert in Srinagar 'for the people of Kashmir': a jamboree, that could not have been possible without the cooperation and permission of the Government of India.
(It's another matter altogether that while the audience consisted of the beautiful people of Delhi and Mumbai who were close friends or associates of the envoy, a curfew was imposed to enable the concert and the 'people of Kashmir' themselves, stayed home).
In 2019 and just a month after India lifted Article 370 in J&K, outgoing German ambassador Walter Lindner desisted from commenting on the development, as it was an 'internal matter'.
Just last month, Foreign Minister Baerbock herself, had met with External Affairs Minister S Jaishankar in Berlin, to talk about 'deepening cooperation'.
India and Germany are 'strategic partners' since 2000. Of late, Germany has also stressed its 'shared interest (with India) in strengthening multilateral cooperation and in promoting stability and security in the Indo-Pacific region'. (Website: German Foreign Ministry).
It will not matter a great deal to South Block, that Baerbock chose to drop in on Pakistan, and not India, for her first official visit to South Asia.
If anything, India's diplomats will be relieved they don't have to bear the annoyance of 'hyphenated visits' like the ones undertaken by many German visitors including former chancellors, who would 'parachute' into New Delhi either on their way to, / or return from Islamabad or Beijing.
But there is no doubt that there will be some facepalms and red faces in Berlin: most of all among those who consider 42-year old Baerbock inexperienced and therewith, unsuitable, for what, in light of both the Ukraine crisis and the rising threat from China, is one of the European superpower's most important portfolios.