Police shelling at MQM rally, woman unconscious
MQM Pakistan staged a sit-in protest in front of the Chief Minister's House in Karachi against the local government system in Sindh. The police charged and shelling on protest demonstrators on violation of Red Zone.
Several workers, including a member of the Sindh Assembly, were injured and arrested as a result of the Lathi Charge. The area around the Chief Minister's House remained a battlefield. Many protesters got unconscious due to tear gas.
Neither members of the Assembly nor women were taken care of. The police did what they could to clear the red zone.
At the Metropol signal, police tried to stop MQM workers from going to the Chief Minister's House.
Sindh Assembly member Sadaqat Hussain's head was blown off by a police baton charge while a female MQM worker lost consciousness due to police shelling.
The rally was led by Wasim Akhtar and Aamir Khan. It was a shock to the police and the district administration. In the red zone of the city, where foreign players of PSL were present in the hotel adjacent to the Chief Minister's House, on the other hand, due to the protest, there was severe traffic jam.
Leaders of the sit-in termed the local government system as a black law and said that today everyone in Sindh is protesting against it.
Police arrested several MQM workers and shifted them to different police stations. After which the police restored traffic around PIDC.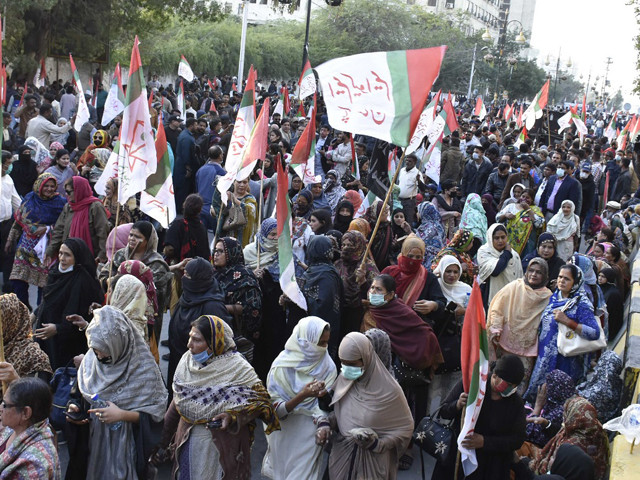 Heavy traffic jams in the city due to rallies
Due to two different rallies in Karachi, traffic was jammed on the roads. Due to which people faced difficulties.
Due to severe pressure on Shara Faisal in Karachi, traffic was jammed on Baloch Colony Causeway and also in Defense Kalapul and Tariq Road areas.
Due to the rally at Lasbela Chowk, the traffic has been severely jammed.