Click on the "cornerstone" of democratic societies, according to the United Nations on International Day |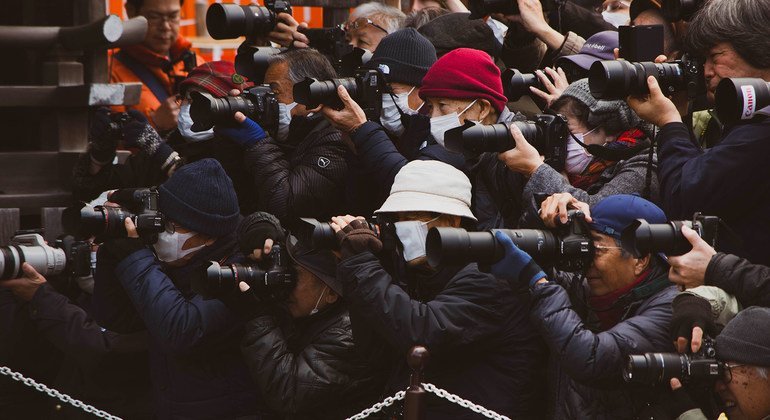 In a message on the occasion of World Press Freedom Day, which falls on May 3 every year, Secretary-General Antonio Guterres Emphasize the importance of reliable, verifiable and easily accessible information.
"During the pandemic, and in other crises including the climate emergency, journalists and media workers help us navigate the rapidly changing and often overwhelming information landscape, while addressing serious errors and lies," he said.
"A free and independent press is our greatest ally in fighting misinformation and disinformation."
Mr. Guterres also noted the personal risks that journalists and media workers face, including restrictions, censorship, abuse, harassment, detention and even death, "just for doing their job," and that the situation continues to get worse.
The economic impact of Corona Virus He added that the epidemic has severely affected many media outlets, threatening their survival.
"As budgets tighten, reliable information is also being accessed. The Secretary-General said that rumors, lies and extremist or divisive opinions are increasing to fill the gap," urging all governments to "do everything in their power to support a free, independent and diverse media."
Contribute to the well-being of mankind
Michelle Bachelet, the United Nations High Commissioner for Human Rights, highlighted the importance of a free, independent and uncensored press as "the cornerstone of democratic societies," as it conveys life-saving information, improves public participation, and promotes accountability and respect for human rights.
"Around the world, people are increasingly taking to the streets to demand their economic and social rights, as well as an end to discrimination, systemic racism, impunity and corruption," she said.
Ms Bachelet added that journalists who play their primary role in covering these social protests have become targets, with many becoming victims of unnecessary and disproportionate use of force, arbitrary arrests and criminal prosecution.
In addition to dissuading other journalists from reporting critically on related issues, such attacks weaken public debate and hinder society's ability to respond effectively to challenges, including Covid-19She said.
World Press Freedom Day
Recorded annually on May 3, World Press Freedom Day It celebrates the basic principles of freedom of the press. It is also an occasion to assess freedom of the press globally, to defend the media from attacks on their independence, and to honor journalists who lost their lives while practicing their profession.
History indicates teacher accreditation Windhoek Declaration to develop a free, independent and pluralistic press In the United Nations Educational, Scientific and Cultural Organization (UNESCOA conference in the Namibian capital in 1991.
This year's International Day focuses on the theme of "information as a public good", stressing the importance of information as a public good, and exploring what can be done in the production, distribution and reception of content to enhance journalism, as well as to improve transparency and empowerment.
Help pads become more transparent
The topic relates to UNESCO's work to ensure the long-term health of independent and pluralistic journalism and the safety of media workers everywhere, Audrey Azoulay, Director-General of the United Nations agency charged with defending freedom of the press, He said.
She said, "As part of these efforts, we are working to create more transparency on Internet platforms in areas such as content modification, while respecting human rights and international rules for freedom of expression."
It also highlighted the agency's work to equip people around the world with the media and informational knowledge skills they need to navigate this new information landscape, so that they can avoid being deceived or manipulated online.
"As we celebrate World Press Freedom Day, I call on everyone to renew their commitment to the fundamental right to freedom of expression, to defend media workers, and to join us in ensuring that information remains a public good," added Ms. Azoulay.


More to track …
Bulletin Observer Human Rights News
We are sorry that this post was not useful for you!
Let us improve this post!
Tell us how we can improve this post?